Central Cambridge Osteopathy Clinic
Mr Ian Lewis has a central  Cambridge osteopathy clinic based at the Salus Wellness clinic. Where he can take appointments. Salus Wellness Clinic is a multi-therapy clinic that has 8 therapy rooms and 60 registered practitioners.
This clinical environment allows him to work with many different practitioners. This including physiotherapists, podiatrists, private GPs, psychologists, councillors and other health practitioners to develop a multi-disciplinary approach.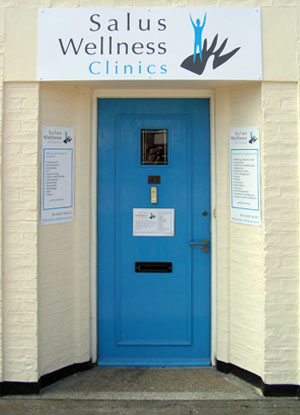 When you  arrive at the clinic, you will enter in the reception room  where you will either be greeted by Ian Lewis or the on duty receptionist. Then you then be escorted to one of clinic rooms at premise for your consultation with Ian Lewis.
As you can see the clinic rooms do have a very relaxed, spacious and therapeutic environment to come have an appointment.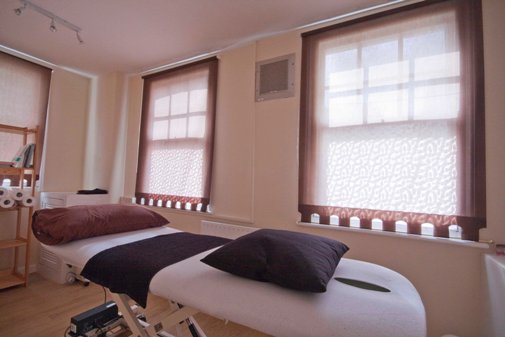 Parking
The clinic does have Pay and Display Parking on Norfolk Street at 50 pence per half an hour.  The nearest bus stops to this clinic include the Grafton Centre and Drummer street. There is also free motorcycle parking behind the Salus Wellness Clinic.
Alternatively there are two nearby car parks. The Queen Anne Terrace is a 5-10 minute walk and Grafton Centre is about 2-5 minutes walk.
Appointment Availability
 Mr Ian Lewis is available for appointments on weekdays (except Mondays and Thursdays) from 9 am to 7pm at our Cambridge Osteopathy Clinic and Waterbeach Osteopathy clinic.
What Should I Bring to My Appointment?
Our osteopath may require you to bring a list  of any prescribed medications by your doctor. Also any imaging scans such as X-ray, MRI and CT scans and blood tests can be useful to our cambridge osteopath when taking a case history.
In fact, any clinical reports from the hospital / specialist doctor provide useful diagnostic information for your consultation with our Cambridgeshire Osteopath.
Contact Us
For more information click on the home page or to book an appointment go to appointment bookings
Alternatively Email us at bookings@camosteopathy.co.uk call us on 07982 432732