Cambridge Osteopath & Waterbeach Osteopath, Cambridgeshire
Why Should I book an Appointment with us?
Cambridge Osteopath, Mr Ian Lewis is a highly experienced Registered Osteopath that provides a bespoke treatment and management plan. This plan is a patient centred approach to treating musculoskeletal injuries and conditions. Where each healthcare plan is tailored to each patient needs effectively. Plus he could prescriptive exercises and lifestyle advice as part of self-help management program.
Also, he has worked in well established clinics across the South of England (Oxford, Swindon, Borehamwood and London). Plus, East Anglia (Peterborough, Norfolk) before establishing his Cambridgeshire Osteopathy clinics .
In addition, he uses an evidence based approach to treating and managing his patients. He keeps his knowledge and practice base up to date by writing evidence based osteopathy practice blogs on this website. Also he attends professional conferences and continued professional development courses.
Furthermore, he is registered with the General Osteopathic Council and a Member of the Institute of Osteopathy. If you would like to know more about his clinical background and education then click on the Ian Lewis tab above. Alternatively have a look at his Linkedin page.
Would you like some pain relief without the medicine or surgery by a Cambridge Osteopath?
Osteopathy is a manual therapy approach to musculoskeletal injuries and conditions. The treatment is very un-invasive, natural and extremely therapeutic. The treatment is delivered in the most painless way and reduces the pain and disability associated with musculoskeletal conditions. Treatment is suitable for people of all different ages and demographics.
As a matter of fact, Osteopaths can diagnose and treat a wide array of conditons. Particularly conditions that can cause neck pain, back pain, shoulder pain, arm pain, pelvic pain, hip pain, knee pain, ankle pain and headaches.
There is even published research and clinical guidelines available (online) that supports osteopathy as a treatment option for certain musculoskeletal injuries and conditions.
So if you would like an appointment, please click on appointment bookings, if you are still not convinced then keep reading below.
What to Expect in a Consultation at our Waterbeach and Cambridge Osteopathy Clinics
Firstly, the initial consultation will be 1 hour which is apportioned to 15-20 minutes of case history to discuss your presenting complaint. Secondly 15-20 minutes of clinical examination to investigate the source of problem. Finally 20-30 minutes of osteopathy treatment.
Do I Need a Referral from the General Practitioner?
You can get an opinion or referral from your local General Practitioner on whether Osteopathy treatment is suitable for you. However most people self-refer themselves to Osteopaths. Any Cambridge Osteopath has the clinical competency to diagnose and treat patients within musculoskeletal practice.
Who can the Osteopath Refer to?
Any Cambridge Osteopath can decide whether that osteopathic treatment is not suitable for you. Consequently, Mr Ian Lewis will refer you to the most appropriate healthcare practitioner for your presenting complaint.
Luckily, Mr Ian Lewis works in a Multi-Therapy Clinic in Central Cambridge with 60 Healthcare Professionals. Where he can to refer you to the most appropriate practitioner in the same clinic with plenty of treatment options.
So you can be proactive an book an appointment at our Waterbeach and Cambridge Osteopathy Clinics in Cambridgeshire.
Where are our Cambridgeshire Osteopathy clinics located?
Waterbeach Osteopathy Clinic
Our small residential clinic is located in Waterbeach, Cambridgeshire. There is plenty of street parking  outside the clinic premise. Waterbeach is accessable by bus from Cambridge and by train from Cambridge Station to Waterbeach station. 
When you arrive at the clinic you will be greeted by Ian Lewis at the front door of the clinic. Then escorted to our clinic room for a consultation. He will explain the process of the consultation and what to expect during the consultation. In which you can object or consent to treatment.
Finally, please note that the clinic is not wheel chair accessible due the clinic being based on the first floor. If you are unable to climb any stairs then a  mobile plinth/coach can be set up on the ground floor of the clinic.
Central Cambridge Osteopathy Clinic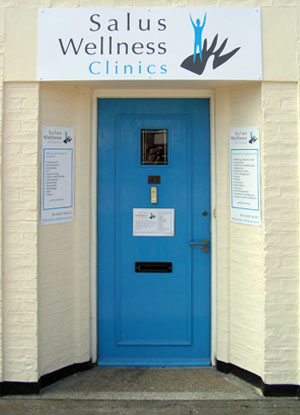 Mr Ian Lewis has a Cambridge Osteopathy clinic based at the Salus Wellness clinic. Where he can take appointments. Salus Wellness Clinic is a multi-therapy clinic that has 8 therapy rooms and 63 registered practitioners.
This clinical environment allows him to work with many different practitioners. This including physiotherapists, podiatrists, private GPs, psychologists, councillors and other health practitioners to develop a multi-disciplinary approach.
When you  arrive at the clinic, you will enter in the reception room  where you will either be greeted by Ian Lewis or the on duty receptionist. Then you then be escorted to one of clinic rooms at premise for your consultation with Ian Lewis.
As you can see the clinic rooms do have a very relaxed, spacious and therapeutic environment to come have an appointment.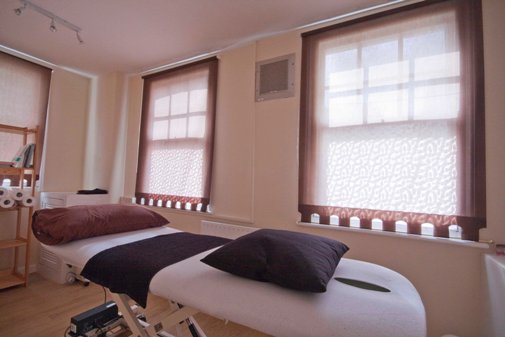 Parking
The clinic does have Pay and Display Parking on Norfolk Street at 50 pence per half an hour.  The nearest bus stops to this clinic include the Grafton Centre and Drummer street. There is also free motorcycle parking behind the Salus Wellness Clinic.
Alternatively there are two nearby car parks. The Queen Anne Terrace is a 5-10 minute walk and Grafton Centre is about 2-5 minutes walk.
Appointment Availability
 Mr Ian Lewis is available for appointments on weekdays (except Mondays and Thursdays) from 9 am to 7pm at our Cambridge Osteopathy Clinic and Waterbeach Osteopathy clinic.
What Should I Bring to My Appointment?
Our osteopath may require you to bring a list  of any prescribed medications by your doctor. Also any imaging scans such as X-ray, MRI and CT scans and blood tests can be useful to our cambridge osteopath when taking a case history.
In fact, any clinical reports from the hospital / specialist doctor provide useful diagnostic information for your consultation with our Cambridgeshire Osteopath.